Spring / Summer Activity Guide


Looking through the 32-page Activity Guide, it's obvious that Forsyth County Parks & Recreation offers a lot of ways to get the mind & body moving this Spring & Summer. From organized recreation for youth through adult, fitness classes, even educational classes for the mind, you're sure to find something that will fit you or your family. Click here for the full March – August 2012 Guide.
In the guide, you'll find:
Information on the "FitClassPass" available at three Recreation Centers – Central, Fowler & Old Atlanta Park. Prices range from $5 per class to $175 for a full year. For more information about the schedule and pricing, click here. (Page 5)
Information on Camps offered by the Parks & Rec – for Spring Break, Summer & Day Camps. (Page 6-13)
Registration Information for Youth Athletics – Fall Leagues. (Page 14)
Adult Athletics (Page 16)
Fitness Programs (Page 17)
Youth & Adult Tennis (Page 18-19)
Gymnastics (Page 20-21)
Martial Arts (Page 22)
Dance (Page 23)
Adventure & Nature Programs (Page 24-25)
Youth & Adult Art Classes (Page 26-28)
Special Interest (Page 29)
50+ Adult Activities (Page 30)
Earlier this month, I started the "Wholesome Choices" Campaign. I am partnering with McDonald's on their Wholesome Choices Blogger Program and through it, being more aware of the wholesome choices I make. When I attended the Kick-Off Meeting for the Campaign we heard from Fitness Expert, Andrea Riggs. Andrea spoke of three areas to a healthier lifestyle – 1) Lifestyle, 2) Nutrition, and 3) Fitness. Through the offerings of Parks & Rec, it makes it easier to incorporate both Lifestyle & Nutrition into a healthier lifestyle.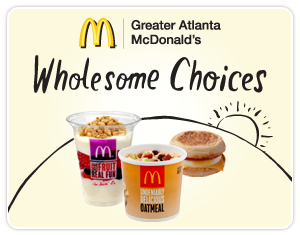 Are you looking for ways to make wholesome choices in our every day life? Consider checking out the Spring/ Summer Guide.

So, stick around and hopefully we can help each other over the come weeks! In the mean time, follow McDonald's Atlanta on Twitter @McDonaldsATL and check out their website for real-time promos, meal ideas and how to make the most of your McDonald's experience, especially when it comes to nutrition.
Disclosure Language:
McDonald's partnered with bloggers such as me to participate in its "Wholesome Choices" Blogger Program. As part of that program, I received compensation. They did not tell me what to purchase or what to say about the products used, and believe that consumers and bloggers are free to form their own opinions and share them in their own words. McDonald's policies align with WOMMA Ethics Code, FTC guidelines and social media engagement recommendations.