Weekend Wrap-Up
I know I've said it more than once already, but I LOVE this time of year!  The weather is awesome &  there is so much going on around town.
We wanted to highlight a few things that are either free or really inexpensive for you & your family to enjoy this weekend.  For a full list of more events going on around town, be sure to check out our Calendar of Events.
Friday
Brookwood Farmer's Market – There are just a few more Fridays to visit the Market so check it out now for local, organic, and natural foods.  4pm to 7pm.  Click here for more information.
Saturday
Make a morning of FREE activities with Storytime at Barnes & Noble and "Build & Grow" at Lowe's.  Visit our Calendar of Events page for all the details.




Night the Light Walk – This coming Saturday, September 22nd, the Cumming Fairgrounds will be filled with people on a mission.  A mission to fight, and end, blood cancers.  The Fairgrounds will host the Leukemia & Lymphoma's Light the Night Walk.  Volunteers are needed to fill some critical spots during the event.  If you have just a few hours on Saturday, click here to see how you can make a big difference!

Sunday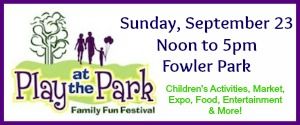 Play at the Park  – Enjoy a fun afternoon at Fowler Park.  Children's activities, market, expo, food, entertainment & more – including us!  Cumming Local will have a booth at the event so make sure you stop by and say hello!  FREE Admission!  Noon to 5pm.  Click here to learn more.
Lots More:
Again, that's just a highlight.  So make sure you check out a full listing by visiting our Calendar of Events.
Plan Ahead: