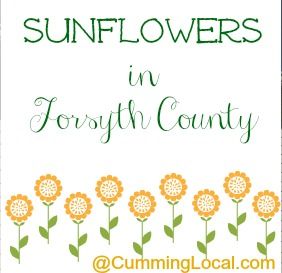 Sunflowers in Forsyth County
UPDATE:  On Thursday, July 25th the Anderson's Sunflowers Facebook page was updated to reflect visitor pricing as follows:
$35 per session for professional photographers. $10 entry fee to take photographs. $2 for parking. Sunflowers- $6 per half dozen and $10 per dozen. We look forward to seeing you soon!!!
UPDATE:  According to their recent Facebook update, the sunflowers are officially in BLOOM!
I've been getting a familiar question here recently – when are the sunflowers going to be out?  If you're not familiar, they're referring to The Anderson's Sunflowers on Majors Road at Hwy 9.  It's a beautiful field that blooms each year thanks to a tradition of a local family.  They're also kind enough to open the field for photography and of course to sell the beautiful flowers too.
It's always a short season though so you have to be ready & visit while they are in bloom!  I have friends that drive a good distance to make sure they get their photograph in the sunflower field each year!
Earlier this month, The Anderson's Sunflowers Facebook page was updated to say flowers are expected to bloom in mid to late July – it's a little later than normal this year because planting season got pushed back.  But that means – get ready!!
And how do you get ready?  By scheduling a photographer for the beautiful photos of course!
Sunflower Mini Session Details
Our website sponsors, Terri of Cassesse Photography is now booking her sunflower sessions!
Saturday, July 27th
20-minute Time Slots Available
7-10 images {includes personal print rights}
Up to 4 people per session (additional per person fee)
Click here for more information & to Reserve Your Spot


Contact Terri:
Like Cassesse Photography on Facebook
Visit Cassesse Photography Online
Sunflower Mini Session Information