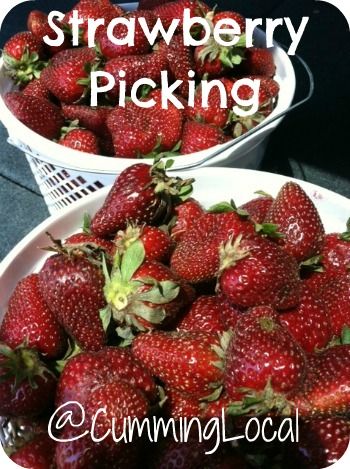 Update:  If you're looking for information on the 2017 Strawberry Season, click here.
Strawberry Picking at Warbington Farms
It's strawberry season & I must admit I'm a little giddy about it!!  I LOVE fresh berries & in Forsyth County, we're super lucky to have a strawberry farm in Cumming!
Warbington Farms is located just up GA 400, off Browns Bridge Road.  It's relatively easy to get to from most parts of the county (but note – there's a Crow ROAD and a Crow DRIVE and every visit I manage to punch in the wrong one – ha)!
Warbington Farms
5555 Crow Road
Cumming, GA 30041
Phone:  770.380.2920
Warbington Farms Online |  Warbington Farms on Facebook
Hours:
Tues – Friday, 10am to 6pm
Saturday, 10am to 7pm
Sunday, 1pm to 6pm
Closed Monday
On the weekends, let the kids take advantage of some Farm Fun including hay rides, inflatable slide & petting zoo (small fees).
Warbington Farms is a U-Pick farm at just $12/ gallon.  If you're on a time crunch or just don't feel like picking your own, you can also purchase previously picked strawberries (when available) at the same price.  And sometimes even cheaper – I snagged some for $11/ gallon because they had been picked the previous day.
After you pick (or purchase) all those strawberries you might need some recipes – I did.  So check out my "Strawberry Season Board on Pinterest" for some ideas!
Personal Tips:
1.  It's never a bad idea to call ahead or check their Facebook page to make sure they still have plenty to u-pick … especially if you're driving from a big distance.
2.  Keep an eye out for deals – I've seen Warbington featured on SweetJack & Groupon in the past (of course we'll keep you updated if we see those deals too)!
3.  Check out their other farm produce while you're there – I snagged some farm-raised eggs for a great price!
4.  And finally, mark your calendar for their May 12th Strawberry Festival:  Vendors, Great Food, Farm Fun & of course … strawberries!