Update:  For most recent Grand Opening information, click here.
Sprouts Opening in Cumming GA
It's Official (again) – Sprouts Farmer's Market is opening in Cumming GA!  The Lakeland Plaza Shopping Center will soon be a very popular spot again!  In addition to Sprouts, signs are already up for Texas Roadhouse, Twisted Taco, Joanne's Crafts and an LA Fitness will be mixing in as well!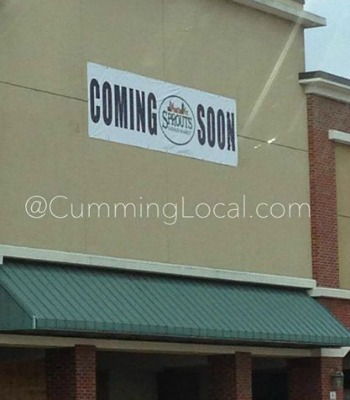 When will Sprouts Open in Cumming GA?
According to a September 11th Press Release, the opening will take place 1st quarter 2015 – I say that's a great way to start the new year!!
PHOENIX, Ariz. – September 11, 2014 – Sprouts Farmers Market, one of the fastest-growing retailers in the country, today added a second Alabama location to its list of new stores scheduled to open in early 2015, and shared the addresses of all ten new stores planned for the quarter.
The complete list of new Sprouts stores scheduled to open in the first quarter of 2015 include:
Bakersfield, CA
Birmingham, AL
Cumming, GA – 530 B Lakeland Plaza
Daly City, CA
Houston, TX
Huntsville, AL
Kansas City (Liberty), MO
Mansfield, TX
Scottsdale, AZ
South Jordan, UT
Each of these stores will bring an estimated 100 jobs to the communities in which they are opening.  Grand opening dates will be released later this year.
More about Sprouts:
Sprouts offers consumers a complete healthy grocery store experience featuring fresh produce, bulk foods, dairy, meat and seafood, bakery, vitamins and supplements and more.  Shoppers will find an abundant selection of fresh fruits and vegetables and barrels of wholesome grains, nuts, and sweets.  The bright, open stores showcase fresh baked goods, eclectic beer & wine and thousands of natural, organic and gluten-free groceries.  Sprouts' on-site butchers help customers with special cuts of  meat or seafood or homemade burgers and sausages.  The vitamin department carries thousands of top-quality, sensibly priced vitamins, natural remedies,functional food, lifestyle support and herbal supplements.  Sprouts' knowledgeable service and low prices offer customers a unique shopping experience.