The following is a guest post from Emily of Organization by Emily in Cumming, GA.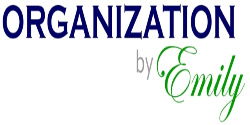 Top 5 Things to Focus on for Spring
For me, spring signifies renewal. So from an organizing perspective, I always look at it as a way to get back to basics, to simplify life and enjoy the feeling of hope that spring always instills in me. My top five tips for organizing and time management for the spring:
1. Figure out your values and priorities and then set appropriate goals. Write them down. Set SMART goals – specific, measurable, attainable, realistic and timely.  Give yourself a deadline and write them in a conspicuous place where you can refer to them often.
2. Identify your most important relationships and focus on those people. Make a point to spend time with them. Strive for deeper relationships. Get rid of relationships that drag you down or aren't fulfilling to you. You can consider this "emotional de-cluttering."
3. Get active and be healthy! With nicer weather coming soon (fingers crossed!), it is the perfect time to get out from behind the computer screen and enjoy being outside. Learn tennis or golf (please! I need someone to play with.) As you lose weight, you can consider this losing "body clutter" (thanks to my mentor, flylady.net, for that term.)
4. Get involved in your community, whether it is through your church, one of your kid's activities, or volunteering for a cause such as recycling. It makes you feel good to give back to the community. As you give to those less fortunate, you become more grateful for what you have and are more willing to part with unnecessary items in your home.
5. Be thankful that the world is so large and diverse that there is always something new to learn and no excuse to be bored. Pick up a book. Remember that every day is an adventure!
When you remember that life isn't about the stuff you have but the friends you keep, you can pare down and simplify your life. I can help.  Give me a call!
Special Offer to Cumming Local Readers:
Emily is offering one FREE hour of professional organization with a two-hour purchase.  Her rates are very reasonable so with a minimal investment & three hours of her time you'll definitely be more organized!
Connect with Organization by Emily


Phone: 404-372-5488
Facebook / Web: www.facebook.com/organizationbyemily
Email: OrganizationbyEmily@gmail.com
Bio: Emily Stitt McMath is a professional organizer who works with both households and small businesses. She is dedicated to moving her clients from clutter and chaos to comfort and calm. She helps her clients create systems of organization throughout their homes or offices and routines to maintain the organization. She also coaches them to build new habits of setting priorities and time management.
Emily has always had a passion for organizing. That passion was first recognized when she took a quiz for her gifted and talented class in kindergarten and later when she lined up her little girl shoes in the closet. She decided to help others clean out their bad habits and kick their messy ways to the curb.  Her life motto is "Everyday is an adventure!"
Emily has a bachelor's degree in psychology from Tulane University and an MBA from Webster University. She is a member of NAPO, the National Association of Professional Organizers. She created her company, Organization by Emily, in 2009 when she ran out of things of her own to organize.