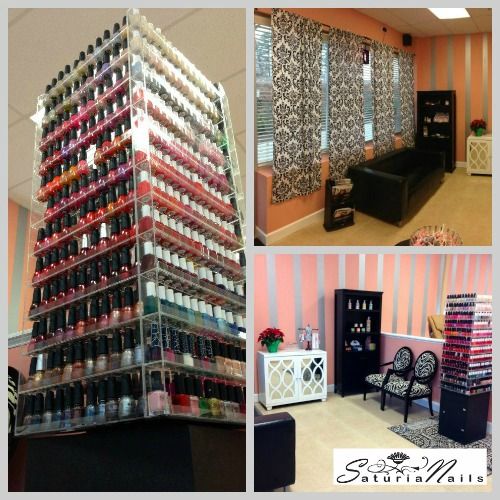 Sponsor Spotlight:  Saturia Nail Salon in Cumming, GA
I first learned about Saturia Nails in December of last year.  The owner, V, contacted me after one of her regular customers shared our website with her.  I'm so grateful when our readers share our site with their favorite businesses!
When I announced on Facebook that we would be spotlighting our new friends at Saturia Nails, so many of you jumped online to say that you loved Saturia!  I knew I had good opinions about Saturia Nails, but I loved that so many of you already had great opinions too.
Then, right before Christmas, I went in as a customer for the first time.  And I quickly learned all the good comments that our Facebook fans raved about were true in my opinion too.  I've been back twice now as a customer & both times I've observed the same things – a clean environment, attentive service, and most enjoyable for me – real conversations!  At every station, the technicians were having conversations with their customers.  One visit I chatted the entire time with my technician about ski slopes in North Carolina.  Their regular customers were greeted with big hello's and those were followed up with questions about family & the holidays.
So, a great in-store experience AND my nails looked great when I left and I'm a happy customer!
Save at Saturia Nails:
If you haven't tried Saturia Nails before, it's definitely worth a visit.  Plus we have some great coupons on our site right now to help save you some money.  Click here to print your coupons and save at Saturia Nails.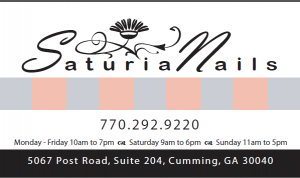 Connect with Saturia Nails:
5067 Post Road, Cumming GA 30040
(Located inside the Midway Family Festival Shopping Center)
Like Saturia Nails on Facebook
Phone:  770.292.9220
Click here for Saturia Nails Coupons
Disclosure:  This is a sponsored post, yet all opinions are my own.