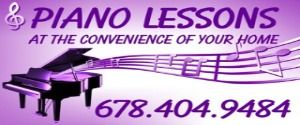 Cumming Local is thankful for our advertising partnership with Atlanta Piano Fortissimo. We are excited to introduce you to this option for convenient piano lessons in Cumming GA!  Make sure you use the links and contact information provided to follow up with Atlanta Piano Fortissimo and as always, when visiting, be sure to mention you heard about them through Cumming Local!
Sponsor Spotlight:  Piano Lessons in Cumming GA



We are often asked about places to take piano lessons in Cumming & Forsyth County – and now we have a great answer.  In the privacy of your own home!
We're excited to introduce you to Atlanta Piano Fortissimo – an in-home piano lesson service providing lessons in the comfort of the students' homes.  Atlanta Piano Fortissimo offers flexible schedules with 30, 45, & 60-minute lessons available.  Choose from a morning, afternoon or evening session depending on  your schedule and what will work best for your family.
Atlanta Piano Fortissimo wants to keep their students motivated and have them look forward to their music lessons each week so all students are allowed to play music they like in addition to the traditional repertoire that they will learn.
Students will also have the opportunity to participate in two formal recitals each year – regardless of level & abilities.  These are a great time for the students to show off & see how far they've come!
Atlanta Piano Fortissimo hires only degreed and experienced instructors who are required to pass a background check prior to being hired.    Students will need to have a piano or keyboard in their home for both lessons and regular practice.
Ask about Savings:
Atlanta Piano Fortissimo offers sibling discounts as well as a current "Back To School" Special.  This includes 1 free lesson when a block of four 45-minute lessons are purchased.  Inquire with Atlanta Piano Fortissimo for more details.
With busy schedules why spend even MORE time in the car going to & from lessons – let Atlanta Piano Fortissimo come to you instead!
Connect with Atlanta Piano Fortissimo:
Lessons in the Privacy of your Home
Cumming GA, Forsyth County & Surrounding Areas
Phone: 678-404-9484
Visit Atlanta Piano Fortissimo Online