Southern Way Insurance Agency Offering Pet Insurance
Have you heard about Figo Pet Insurance yet? We are so excited to be able to share with you ALL about it!
What is Pet Insurance? Pet Insurance is a way for you to cover your furry friends (cats and dogs) from unexpected illness and injuries. It also covers routine appointments. Southern Way Insurance Agency is setting up pet insurance through a cloud based insurance company,  Figo.
"Pet insurance can make a huge difference in the lives of you and your pet. We believe everyone should have it, even if it's not from us."Rusty Sproat Founder & CEO, Figo Pet Insurance
Figo offers three plans that you can customize both your reimbursement percentage and annual deductible. Below is some information from Figo Pet Insurance's website:
How Does Insurance Work?
Purchase the plan that suits you best.
When an illness or injury occurs get the best veterinary treatment possible for your furry friend.
Submit your bills and Figo pays you electronically.
Here's the best news – these plans average around less than $1.50 per day! Now you can have peace of mind in knowing your pet will always receive the care they deserve.
Interested in getting a FREE quote for pet insurance? Click here 
If you'd like more information, you can call Craig directly for more information and a free quote for Pet Insurance.
Connect with Craig Crawford  at Southern Way Insurance Agency:
Address: 12875 Cumming Hwy Ste 103, Canton,GA 30115
Phone: 678.965.4243
Website | Facebook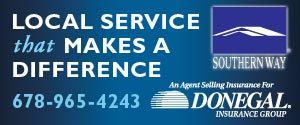 More Information about Craig Crawford:
Founded in 1990, Southern Way Insurance Agency strives to provide quality protection for hundreds of individuals, families, and businesses throughout Georgia.  We make it our top priority to assist you in identifying your insurance needs and putting a plan together to provide you with a personalized coverage plan.   Southern Way Insurance Agency strives to be YOUR local insurance resource.