Private Parties at Pinot's Palette in Johns Creek
Host the best night ever! Your guests don't need any art experience to have a good time at Pinot's Palette. One of their local artists will guide the group through every step of the painting. Your party will have a private room, complete with all the little extras to make the night run smoothly.
With a private painting party, you get to call ALL the shots! {Insider Tip: Ask Pinot's Palette about custom paintings, catering partnerships and music playlists.}
How To Book
Private events are booked by placing a refundable deposit to secure your desired date and time (after availability is confirmed by the studio).
What's Included
Pinot's Palette wants your event to be fun, organized and effortless. They will provide you with all the supplies needed for a party, including their helpful artist(s) to host and guide your guests through the event. They  include the following:
In-studio parties will have an entire room to themselves, with plenty of space for all guests.
Canvases, brushes, paints, palettes, aprons and anything else needed to finish a masterpiece. They also have a designated area to keep purses and coats.
Their instructors are professional artists themselves, and they are well-trained in making the painting process simple and enjoyable for painters of all skill levels. Everyone gets step-by-step instructions at a comfortable pace.
Ice, Ice Buckets, Bottled Water
The studio is equipped with ice and ice buckets to make it easier to keep drinks and food at the right temperature. Bottled water is available for all guests. You'll also have counter space for food or gifts.
They provide real glassware for all guests. No need to go out and buy disposable cups!
Pinot's Palette will have a crowd-pleasing playlist ready for you. Or, you can tell them what sort of music you'd like for your event and they will tailor a playlist to your needs. And don't worry – they make sure the music doesn't get in the way of hearing the artist's instructions.
Painting Selection
Please provide your top three (3) desired paintings. They will always try to make sure you get your first choice; but due to occasional scheduling conflicts or materials shortages, it's advisable to have a backup or two.
You don't have to choose a painting in order to book an event, but the final selection must be confirmed with the studio at least two weeks before your event date.
Their painting library is huge! If you need assistance choosing the right painting for your group, just get in touch with them. They have hosted quite a few events and can help you narrow it down.
Offering Examples
We have a product quote to show you some of the most popular options. Take a peek at the image below!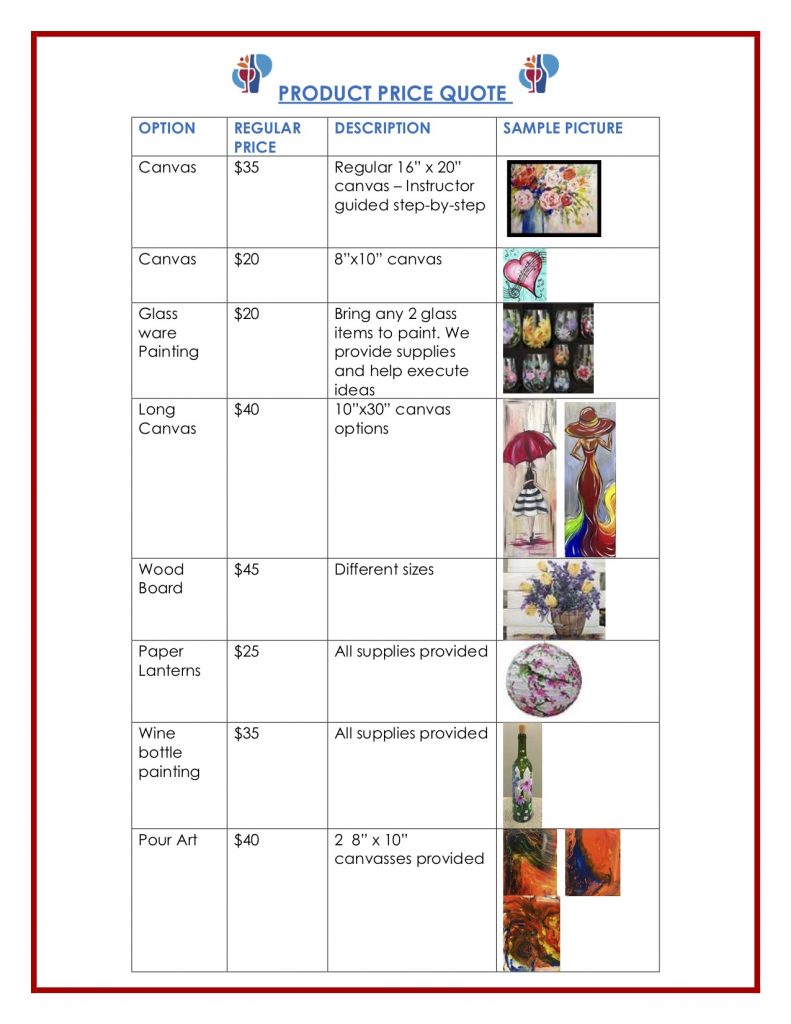 ---
Pinot's Palette opened for business on May 6, 2009. Our first location was a cozy, local studio in the Montrose neighborhood of Houston, TX. Being a new concept, we started small, with the hopes of hosting a wine and painting class three nights a week.
Before long, word spread, and now we have paint and sip franchise locations from coast to coast and internationally.
Together, we've created over one million paintings with our customers. And while we haven't counted the corks, our guests have enjoyed plenty of wine with friends along the way.
We love being your go-to spot to relax, unwind and let loose. From date nights to birthdays and bachelorette parties, our paint parties are a unique way to celebrate all of life's special moments – even if the occasion is just called "Friday."
Connect Online: Website | Facebook
Location: 11720 Medlock Bridge Rd, Suite 175, Johns Creek, GA
Phone: 770.783.1783