Update:  This giveaway is now closed.  Thank you all for entering.  Congratulations to Jennifer M. (entry #10), selected via Random.org.  Jennifer has been notified via email.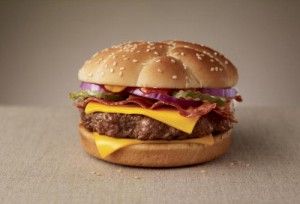 McDonalds Cheddar Bacon Onion & Giveaway
Have you seen the commercials yet?  McDonald's recently introduced a new sandwich to their menu – the "Cheddar Bacon Onion".
A funny story actually, I was at my daughter's t-ball game a few weeks ago & I overheard two ladies describing the sandwich and the commercial to their husbands.  They were saying how good the sandwich looked and they couldn't believe it was a McDonald's hamburger.  One of the men was saying he saw the same commercial & he was trying to convince her it wasn't a McDonald's commercial.  They were so funny going back and forth that they finally agreed to go to McDonald's after the game to see who was right!!
It cracked me up!  And I was happy for the lady, because I knew she was going to win the argument – ha!
But the truth is, I can see why the man didn't think is was a McDonald's sandwich.  It doesn't sound like anything on their regular menu to me either –  "The Cheddar Bacon Onion sandwich brings new premium toppings of white cheddar & grilled onions, combined with hickory smoked bacon & finished in a creamy mustard sauce to create a one-of-a-kind taste experience … for a limited time only!"
So?  How did I try the new Cheddar Bacon Onion?  I'm a sucker for the combination of Cheese, Bacon & Onion on a hamburger – so they had me at Cheddar!  I went all out & decided on the Angus Beef over the Chicken Breast.  I'm actually not eating wheat right now, so I tried it bunless – with a fork and knife.  With a side salad and bottled water, it was a great lunch on the go!
More about the Cheddar Bacon Onion:
Made with premium white chicken breast or 100% Angus beef, McDonald's new Cheddar Bacon Onion is the perfect versatile sandwich for everyone.
The Cheddar Bacon Onion will be available at participating McDonald's restaurants nationwide October 23 – December 16, 2012.
Giveaway:
One Cumming Local reader will win a $10 McDonald's Arch Card to try the Cheddar Bacon Onion for themselves.
Simply leave a comment below & let us know if you'd try the CBO (Cheddar Bacon Onion) with Chicken or Angus Beef!That simple!!

Disclosure Statement
The Greater Atlanta McDonald's Operators Association (GAMOA) partnered with bloggers such as me to help educate us all about the new Cheddar Bacon Onion. As part of this program, I received compensation. They did not tell me what to purchase or what to say about the use of the product. GAMOA believes that consumers and bloggers are free to form their own opinions and share them in their own words. GAMOA policies align with WOMMA Ethics Code, FTC guidelines and social media engagement recommendations. A winner will be chosen by random and voucher fulfillment will be handled by a third party.
Giveaway Disclosure (The Quick Version):   Giveaway will close on Monday, November 26th at 11pm EST. One winner will be selected from all above entries via Random.Org to win. Winner(s) will be notified via email & have 48 hours from time of notification to submit their mailing address.
Disclosure (The Longer Read):
While this giveaway is being promoted on Facebook, it is in no way associated with, sponsored, endorsed or administered by Facebook. By entering this giveaway, you acknowledge this and release Facebook from any responsibility of such. Furthermore, you acknowledge that any information provided for entry is being provided to Cumming Local and not to Facebook.
No Purchase necessary. Giveaway open to all residents, 18 years of age or older, in the US. This giveaway opens at time of publish and closes at 11pm EST, Monday, November 26, 2012.  Entry is only accepted via the forms listed above (completion of tasks & entry of comment on this post). Prize is valued at less than $500. The number of eligible entries received determines the odds of winning. Winner(s) will be selected via Random.Org and notified via email. Winner will have 48 hours to claim their prize & provide a mailing address for shipment. If unclaimed, a new winner will be selected in the same manner. By submission of an entry, reader acknowledges that they are 18 years of age or older and also grants Cumming Local the right to use their name in a winner's announcement, if applicable. By submission of entry, reader agrees to hold Cumming Local harmless in the event that the prize in some way negatively impacts the winner. Giveaway hosted by Cumming Local, LLC PO Box 972, Cumming GA 30028. Void where prohibited by law.