Libraries Hosting Diwali And Star Wars Events Sunday
Sunday, October 15 will be a busy day at two Forsyth County Public Library branches. The Post Road Library will host a Diwali Celebration from 1:30 p.m. to 4:30 p.m. and the Cumming Library will host Star Wars Reads Day from 2:00 p.m. to 5:00 p.m.
"This is the fourth year we've hosted a Diwali program and our patrons seem to really enjoy learning about Hindu culture and customs through dance demonstrations, sampling traditional cuisine, and creating artwork and crafts," says Cleo Joyce, Youth Services Supervisor at the Sharon Forks Library and the program's organizer.
This Diwali Celebration is part of the library's One World Forsyth series that highlights geography, cultural traditions and celebrations from around the world. The series is sponsored by the FCPL Friends & Advocates.
Participants can expect to immerse themselves in the customs and traditions of Diwali at this year's celebration, says Joyce.
"We'll have crafts, samples of Indian foods, and henna tattoos set up in the library. In the meeting room, we've planned dance performances from Atlanta Nritya Academy at 2:00 p.m., Darshini Natyalaya School of Indian Classical Dance at 3:00 p.m., and Maya Dance at 4:00 p.m."
Admission to the program is free and all ages and cultures are welcome.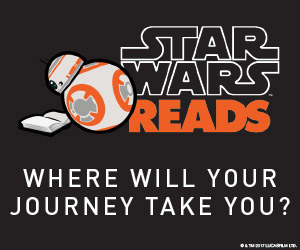 Later in the afternoon, Star Wars fans are invited to dress up as their favorite characters and meet members of the Georgia 501st Legion at Star Wars Reads Day at the Cumming Library.
"Star Wars Reads is a month-long celebration of epic stories and galactic adventures," says Julie Boyd, Youth Services Supervisor at the Cumming Library.
Children, teens, and adults can get in on the fun by dressing in costume, joining in Star Wars-themed games, crafts, and Sphero droid races, checking out Star Wars books or graphic novels, and jumping into a photo with costumed characters from the Georgia 501st Legion.
"The 501st Legion is a group of volunteers who participate in public events dressed in amazingly realistic costumes. Their participation in this program is exciting for our patrons and we are so pleased to welcome them back to the library this year. This is the program you're looking for!" adds Boyd.
Admission to Star Wars Reads Day is free and all ages are welcome to attend.


For more information on these or other upcoming events at Forsyth County Public Library, please visit www.forsythpl.org.