Wyman's of Maine
Recently I discovered this line of frozen fruit that is excellent! Below is a photo of Wyman's line of fruits – mango, blueberries, strawberries, and more. Have you seen them? In Cumming GA & Forsyth County Wyman's of Maine fruits can be found at EarthFare. That's where I picked mine up. I grabbed a bag of blueberries and a bag of mangos.

Today I thought I would share how I used the Wyman's blueberries. I made a Gluten Free Blueberry Crisp. Now you could make this full of gluten if you want 🙂 I just chose to use gluten free oats and flour.
If you decide to make this or another recipe using Wyman's of Maine fruit, here's a $1 OFF coupon for you. Click here to print.
Gluten Free Blueberry Crisp Recipe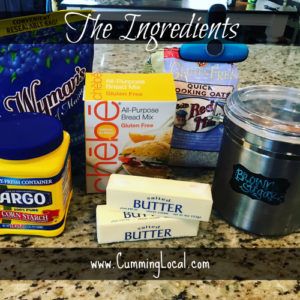 Here's what you'll need:
3/4 cup + 2 Tbsp of Chebe All-Purpose Gluten Free Flour – divided
1 + 1/2 cup of brown sugar – divided
2 cups of Bob's Red Mill Gluten Free Quick Cooking Oats
1/2 tsp of Sea Salt
3/4 cup + 1 Tbsp of Butter – divided
3 1/2 cups of Wyman's Blueberries
1/2 Tbsp of Corn Starch (optional)
1/2 tsp of Cinnamon

Here's what you'll do:
Preheat the oven to 375 degrees
Combine 3/4 cup of flour, 1 cup of brown sugar, oats, and sea salt together in a mixing bowl.
Cut the 3/4 cup of butter into small cubes and mix with oat mixture until it's crumbly together.  You've got to get a little messy and really work this together.
You will then press this mixture into the bottom of a 9 x 13 dish.
Mix the blueberries with the cornstarch and then pour over the top of the crust.
Combine the remaining flour, brown sugar, butter, and cinnamon together. Pop in the microwave for 15 seconds to melt the butter a little. Then crumble this topping over the top.
Bake at 375 for 30-45 minutes.
Serve warm with vanilla ice cream!

Learn More About Wyman's: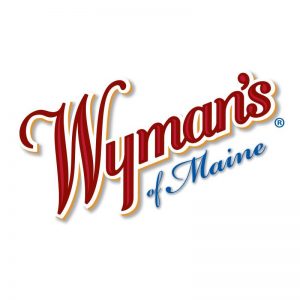 Wyman's of Maine is the largest U.S. owned wild blueberry grower and processor, offering a line of wild blueberry products and complementary frozen fruit products through retailers, foodservice and industrial distributors throughout the country. Wyman's is a family-owned business started in 1874 and now farms 11,000 acres in Maine, Prince Edward Island and New Brunswick, Canada. Wyman's remains committed to sustainability through stewarding natural and human resources. Some of their efforts include enhancing and protecting their soil, water and air, improving the welfare of their employees and their rural communities, and helping the small farms that sell to Wyman's.
They also have a dedicated focus on the protection of honeybees, the pollinators that sustain their farms. All fresh fruit is IQF (Individual Quick Frozen) processed within 24 hours of harvest, locking in fresh fruit flavor and character in a state of the art processing system. Wyman's products can be found in the freezer section of a variety of retailers nationally.
Connect with Wyman's Online: Website | Twitter | Facebook | Pinterest | Instagram 
For all nutritional information, please visit: www.Wymans.com/health-benefits-fruit