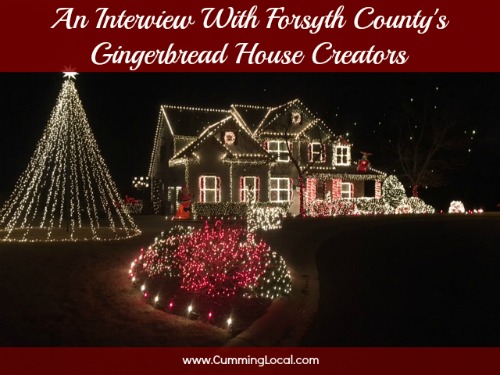 Every year we look forward to the Night of Lights in Ashebrooke. And every year, my whole family wants to sit and look at this special house. It's known as "the Gingerbread house" around the neighborhood. I was able to get a few minutes with the creators and interview them. I know I can speak for all of us, when I say – THANK YOU Gingerbread House! You make a lot of families happy and in awe with your Christmas display every year 🙂
Here's what they had to say…
What's the story of your lights?  Talk me through how the idea came to do so many lights on your house.
"Well, my brother lived next door to us in our former neighborhood. It became a contest of who could do more. My wife says I am the poster child for "Go big or go home." 
Walk me through your process for setting up the lights each year. Done in phases? Start at certain time to finish in time?
"It takes a few weeks, depending on my travel schedule and the weather. I start with the roof, move to the windows and then the porch. The last thing I do is put lights on the bushes and set up the inflatables. Organization is key! All of my Christmas decor is labeled when I take them down the previous year and organized into labeled bins."
Why so many lights? Any estimate/ballpark of how many lights are on your house?
"It gets bigger every year because I add to it every year. There are approximately 60,000 lights this year."
What's the most challenging part of the process of hanging the lights?
"I'd say the hardest thing is keeping them powered on when it rains."
What's the first night we can expect to be the opening night for showing the lights this year?
"Our goal is the first week of December."
Any tips for eager "Griswolds" who are wanting to hang lights on their house?
"Yes – absolutely. I have four tips for you…

1. Make sure the light strands are stretched out and lines are straight.
2. Stay with same type of lights in the same areas.
3. You will need lots and lots of extension cords.
4. Waterproof connections are a smart choice."
Where is the inspiration come from for the design of your lights?
"Actually, I figure it out as I go."
Did part of your childhood play into your light decor? 
"Yes – my dad used to hang lights, but not this many. I try to make it have lots more lights for my three boys to enjoy."
Do you get called Clark Griswold a lot?
"Yes, and we LOVE Christmas Vacation, but the neighborhood calls us the Gingerbread House."
At the end of the day, what is the most gratifying part of having such a fun, festive, and decorated house?
"It's the handwritten notes left in the mailbox, providing a space for family portraits, and all the honks and hollers out the windows of cars driving by."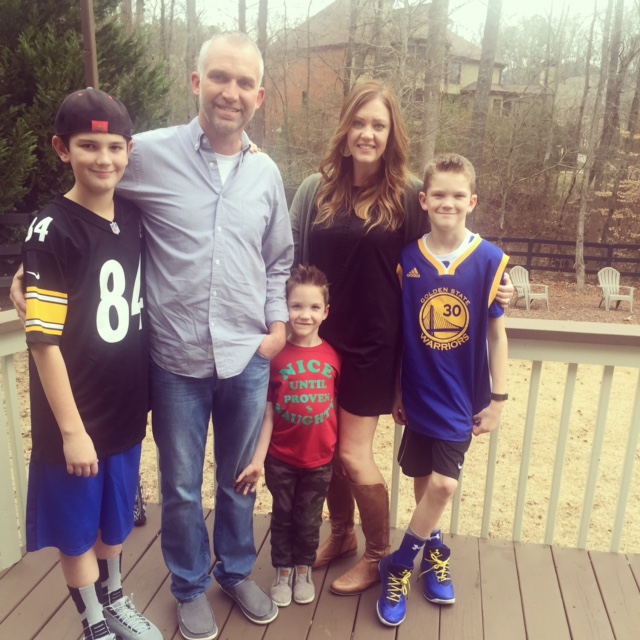 From left to right – Caden (11), Chad, Dylan (5), Amy, and Nolan (10)
Ashebrooke Night of Lights 2017 will be held on December 17th from 7pm-9pm.
---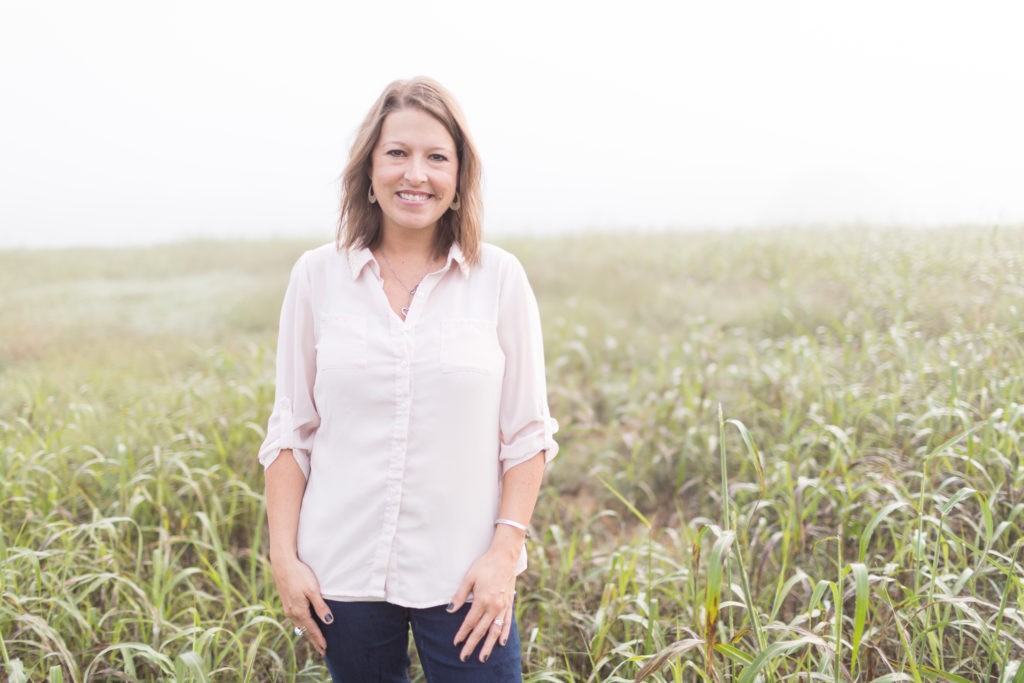 Rachael Walkup has lived in North Georgia all her life. Since 2006 – The Walkup family has made Forsyth County their home. Along with being a wife and mom, Rachael is an avid blogger, social media expert, and owner of CummingLocal.com. Her time is spent promoting local events and small businesses in North Georgia.  With a background in Marketing and Sales, coupled with her experience in Project Development and Search Engine Optimization (SEO), Rachael offers consultations and classes to help clients reach their fullest potential.