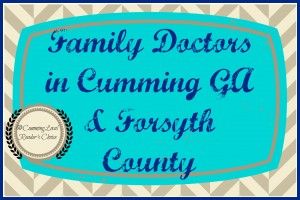 Family Doctors in Cumming GA and Forsyth County
We recently did a Facebook poll to find out what some recommendations were for family doctors in Cumming GA and Forsyth County. You can see that on our Facebook page by clicking here. But we've also made it easy for you by listing them out here!
These are in no particular order:
Disclosure: Some of the suggestions are strictly pediatric and some are both adult and pediatric. All of these were recommended by our Facebook fans. You will want to call the office to gain more information before going by the location.
Did we forget your favorite family doctor? Please comment and let us know!