Fall Fun at Warbington Farms
Fall is ALMOST here and my family cannot wait! As I was looking for some Fall Fun, I found all these great events coming up at Warbington Farms. I thought it might be helpful to share all of them with you so you can save the dates for the events that you and your family would enjoy.
For more information on Warbington Farm's Fall Hours, click here.
These events are listed in order of date:
Slime Day: Friday, September 28th 11 AM – 2 PM
It's time for slime! Join us during fall break and let the kids make and decorate slime. From glitter to shaving cream, pick up your favorite mix-ins and see what you can come up with. PS – Slime making is FREE with FUN PARK admission ($12 per adult & kid *plus tax) and includes the Corn Maze!
Pumpkin Palooza: October 6th 10 am-4pm
Come and celebrate the arrival of fall with Warbington Farms at our annual Pumpkin Palooza festival. Tickets are $12 per person. Each ticket includes Palooza, Fun Park, Hayride, Corn Maze & Barnyard. Food, Pumpkins, Vendor Items & Face Painting extra.
Farmer for the Day: October 20th from 11am-2pm
Curious about how we grow our strawberries here at the farm? Come out to our Farmer for the Day Event and learn all about our strawberry planting process. Kids will even get the chance to plant a strawberry plug in our strawberry patch! Farmer for the Day activities are free with Fun Park Admission which is $12 for kids and adults.
Please note – more events will be added soon! This is only the beginning 🙂 
More Information on Warbington Farms: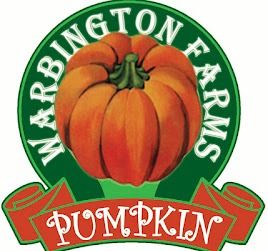 Warbington Farms has been locally owned for over 35 years. Warbington Farms is full of great wholesome fun for the whole family whether it is enjoying the "Hey" Ride, Farm Fun Park, Petting Zoo, fresh picked strawberries or pumpkins, or any of the other down-home fun on the farm. The farm also makes the perfect setting for your next special occasion including birthday parties, bonfire parties, family reunions, corporate events, or a wedding.
Connect with Warbington Farms online: Website | Facebook