Updated: If you're looking for our Round-up of 2013 Easter Egg Hunts in Forsyth County, click here.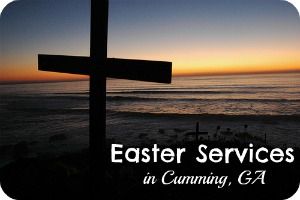 Easter Church Services in Forsyth County
If you don't have a church home, but are looking for a place to celebrate the resurrection of Jesus this Easter Weekend, I hope this round-up of information will help! If your church has a special service & you'd like to have it added to the list, please feel free to use our Contact Us form & we'd be happy to share it with our readers.
This information & the links provided is believed to be correct and accurate at time of listing. As always, it is recommended that you call or confirm prior to driving to a location – definitely wouldn't want you mad at us on Easter Sunday!!

If we missed your favorite place of worship, please let us know so it may be added!
Baptist
Cumming Baptist Church
115 Church Street, 30040
Phone: 770.205.6699
Thursday, March 28th – 7pm: Maundy Thursday Service
Sunday, March 31st – 10:30am: Easter Musical "It is Finished" presented by the Adult Choir
Click here for more information
First Baptist Cumming
1597 Sawnee Drive, 30040
Phone: 770.887.2428
Sunday, March 31st – 8am, 9:30am & 11am
Click here for more information
First Redeemer Church
2100 Peachtree Pkwy, 30041
Phone: 678.513.9400
Sunday, March 31st – 9:15am: Easter Celebration (Contemporary)
Sunday, March 31st – 10:30am: Easter Celebration (Blended Worship)
Click here for more information
North Lanier Baptist Church
829 Atlanta Hwy, 30040
Phone: 770.781.5433
Sunday, March 31st – 8:30am, 9:45am, & 11am (Spanish Available at 12:30pm)
Click here for more information

Catholic
Church of the Good Shepherd Catholic Church
3740 Holtzclaw Road, 30041
Phone: 770.887.9861

Sunday, March 31st – 7:30am, 9am, 10:30am, 12Noon: Easter Services
Click here for more information

Community / Non-Denominational
Browns Bridge Community Church
3860 Browns Bridge Road, 30041
Phone: 678.965.8000
Saturday, March 30th – 6pm & 7:30pm
Sunday, March 31st -9am & 11am
Click here for more information
Highlands Church
4980 Pittman Road, 30040
Phone: 404.895.5637
Sunday, March 31st – 9am and 10:45
Click here for more information
Mountain Lake Church
3105 Dahlonega Hwy, 30040
Phone: 770.888.2513
Saturday, March 30th – 4pm & 5:30pm
Sunday, March 31st – 8:00am, 9:30am, & 11:00am
Click here for more information
First Christian
First Christian Church
1270 Sawnee Drive, 30040
Phone: 770.887.5542
Sunday, March 31st – 9am & 10:30am
Click here for more information
Lutheran
Living Faith Lutheran Church
103 Buford Dam Road, 30040
Phone: 770.887.0184
Thursday, March 28th – 7pm: Holy Thursday Worship w/ Communion
Friday, March 29th – Noon & 7pm: Good Friday Worship
Sunday, March 31st – 7:15am & 10:15am: Service w/ Communion
Click here for more information
Christ the King Lutheran Church
1125 Bettis-Tribble Gap Rd., 30040
Phone: 770.889.5328
Thursday, March 28th – 7pm: Maundy Thursday Service
Friday, March 29th – 7pm: Good Friday Service
Sunday, March 31st – 8am, 9am, & 11am: Easter Service
Click here for more information
Presbyterian
Deer Creek Shores Presbyterian
7620 Lanier Drive, 30041
Phone: 770.887.6801
Sunday, March 31st – 11am: Easter Services
Parkway Presbyterian Church
5830 Bethelview Road, 30040
Phone: 770.889.8694
Thursday, March 28th – 7pm : Maundy Thursday Communion Service
Friday, March 29th – Noon & 7pm:  Good Friday Service
Sunday, March 31st – 11am & 7pm (Brazilian): Easter Service
Click here for more information

United Methodist
Bethelview United Methodist Church
4525 Bethelview Road, 30040
Phone: 770.887.4888
Sunday, March 31st – 10:30am: Worship Service

Cumming First United Methodist Church
770 Canton Hwy, 30040
Phone: 770.887.2900
Thursday, March 28th – 7:30pm: Maundy Thursday Service
Friday, March 29th – 12Noon: Good Friday Service
Sunday, March 31st – 7am (Sunrise Service), 8:45am, 9:51am, 11am, 8am (Spanish)
Click here for more information
Creekside United Methodist
673 Peachtree Pkwy, 30041
Phone: 770.888.8449
Friday, March 29th – 6:30pm: Good Friday Service (Nursery available 6wks to 4yrs)
Sunday, March 31st – 7am (Sunrise Service), 9am & 11am
Click here for more information

This information is and links provided is believed to be correct and accurate at time of listing. As always, it is recommended that you call or confirm prior to driving to a location – definitely wouldn't want you mad at us on Easter Day!!

If we missed your favorite place of worship, please let us know so it may be added!
Photo Source