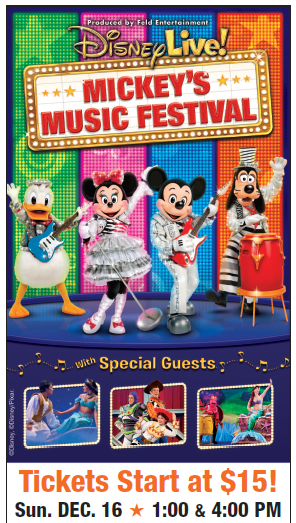 Disney Live!  Comes to Phillips in Atlanta
You've heard me say this before, but I love the benefits of living in a suburb to Atlanta … close enough to get there, but far enough away to not be in the midst of all that traffic day in & day out!
One of the benefits is coming to town next month – Disney LIVE!  It's a one-day only (so don't miss out) event featuring Disney favorites – The Little Mermaid, Aladdian, Toy Story and traditional characters too!
If you're a fan of Disney & music, you'll definitely want to check out this one – hip hop, pop, reggae, rock, country … all with our favorite Disney Characters!  A little something for everyone!  I have never been to a Disney LIVE! show before, but it definitely sounds like something the kids & I would enjoy!  Click here to learn more about the show.
More About the Show:
Mickey Mouse and friends rock the world with the stars from The Little Mermaid, Aladdin and Disney/Pixar's Toy Story in their new touring show Disney Live! Mickey's Music Festival. Disney hits are remixed to the hottest sounds of today featuring hip hop, pop, swing, reggae, rock, country and much more! The irresistible lineup of performers, including Mickey, Minnie, Donald and Goofy; Ariel, Sebastian and Ursula; Jasmine, Aladdin and Genie; and Woody, Buzz and Jessie; are among the more than 25 Disney stars featured in this jam session fit for the entire family! You can't resist dancing, singing, playing your air-guitar and laughing with this band of characters! Come join them at Disney Live! Mickey's Music Festival for a lively concert experience guaranteed to deliver enough rockin' memories to last a lifetime.
Ticket & Show Information:
ATLANTA
Philips Arena (One Philips Dr., Atlanta, GA 30303)
Sunday, December 16 – 1:00pm, 4:00pm
Ticket Prices:                          $70.00 / $55.00 / $40.00 / $25.00 / $15.00
To order tickets by phone:     800-745-3000
Online:                                                www.ticketmaster.com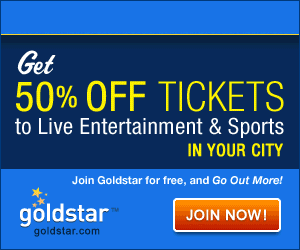 Also:  Check with my new favorite group buying site – Goldstar Events.  I've seen several ticket deals -50% off with Goldstar.  Click here to get started.
Disclosure:  Cumming Local was offered four complimentary tickets in exchange for sharing this information.  As always, we were not paid for our opinions.