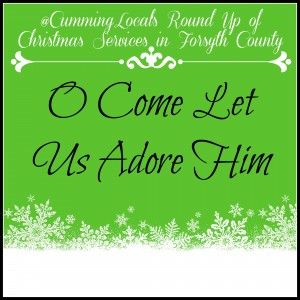 Christmas Services in Forsyth County {2018}
I look forward to Christmas Eve Services every year!  My family and I will be celebrating Jesus' birth with our friends & family at Browns Bridge Church – I'd love for you to join us!
If you don't have a church home but are looking for a place to celebrate, I hope this round-up of information will help!  If your church has a special Christmas or Christmas Eve service & you'd like to have it added to the list, please feel free to share it with us & we'd be happy to share it with our readers.
{This list was updated on November 27th, 2018}
Baptist
Cumming Baptist Church
115 Church Street, 30040
Phone: 770.205.6699
December 24 at 5pm
December 25th 11am
First Baptist Cumming
1597 Sawnee Drive, 30040
Phone: 770.887.2428
December 23rd at 9:30am & 11am(Both Are Candlelight Services)
December 24th  3pm & 4:30pm(Both Are Candlelight Services)
First Redeemer Church
2100 Peachtree Pkwy, 30041
Phone: 678.513.9400
December 24th – 2pm, 3:30pm & 5pm (All Are Candlelight Services)
North Lanier Baptist Church
829 Atlanta Hwy, 30040
Phone: 770.781.5433
December 24th – 5pm (Candlelight service)
Catholic
Church of the Good Shepherd Catholic Church
3740 Holtzclaw Road, 30041
Phone: 770.887.9861
December 24th – 4pm, 6pm, 8pm (Spanish Service) & 12 (midnight)
December 25th – 9am & 11am 
St. Brendan's Catholic Church
4633 Shiloh Road
Cumming, GA 30040
December 23rd – 7:30am, 9am, 10:40am, 12:20pm, 2pm (Spanish Service) & 5pm
December 24th – 8:30am, 4pm, 6pm (Christmas Vigil Mass), 8pm (Spanish Service), 11pm
December 25th – 7:30am, 9:30am, 1pm (Spanish Service)
Community / Non-Denominational
Browns Bridge Community Church
3860 Browns Bridge Road, 30041
Phone: 678.965.8000
December 22nd 4pm & 6pm (no children's environment at 6pm)
December 23rd at 9am & 11am
*Transit (6th – 8th) and Inside Out (9th-12th) will not be meeting. Your middle schoolers & high schoolers are encouraged to go to church with parents.
Canvas Christian Church
3560 Browns Bridge Rd Ste 100, Cumming, GA 30028
December 24th at 4pm & 5:30pm
Highlands Church
433 Canton Road, Bldg. 400, 30040
Phone: 404.895.5637
December 24th – 4pm & 5:30pm
Influencer's Church – Cumming
5095 Post Rd, Cumming, GA
Phone: 678.879.1600
TBD
Mountain Lake Church North Forsyth (Cumming)
3105 Dahlonega Hwy, 30040
Phone: 770.888.2513
December 23rd at 9:30am & 11:30am
December 24th 1pm, 3pm & 5pm
Mountain Lake Church (Dawsonville)
31 Successful Way, 
Dawsonville, GA 30534
December 23rd at 9:30am & 11:30am
December 24th 1pm, 3pm & 5pm
The Vine Community Church
4655 Bethelview Road, Cumming GA 30040
Phone: 678.990.9395
December 24th – 3pm and 5pm
Episcopal
Episcopal Church of the Holy Spirit
724 Pilgrim Mill Road, 30040
Phone:  770.887.8190
December 24- Christmas Eve
4pm- Christmas Pageant
7:30pm- Carol Singing
8pm- Christmas Eve Service
December 25- 10am Holy Eucharist (no Sunday School)
Lutheran
Living Faith Lutheran Church
103 Buford Dam Road, 30040
Phone: 770.887.0184
Christmas Eve: 10:15am
Christmas Day: 10:15am
Christ the King Lutheran Church
1125 Bettis-Tribble Gap Rd., 30040
Phone: 770.889.5328
Christmas Eve Services:
4pm | Early Family Service [nursery provided] 6pm | Contemporary Candlelight Service | Pre-service music begins at 5:30 pm [nursery provided] 8am | Chorale Candlelight Service | Pre-service music begins at 7:30 pm {no nursey}
Presbyterian
Deer Creek Shores Presbyterian
7620 Lanier Drive, 30041
Phone: 770.887.6801
Christmas Eve – 5:30pm (Family service) & 11pm(Candlelight Communion Service)
United Methodist
Cumming First United Methodist Church
770 Canton Hwy, 30040
Phone: 770.887.2900
December 24th Christmas Eve Services:
12pm – Communion Service*
3pm – Children's Program Service*
5pm – Traditional Candlelight Service* in the Sanctuary
7:30pm – Traditional Candlelight Service* in the Sanctuary
9:51pm – Modern Candlelight Service
11pm – Candlelight Communion Service in the Sanctuary
* Excellent childcare available for children 0-4 years old
for these services
Creekside United Methodist
673 Peachtree Pkwy, 30041
Phone: 770.888.8449
December 24th – 3pm, 5pm & 7pm (All Candlelight & Communion Services)
Bethelview United Methodist
4525 Bethelview Road, 30040
Phone:  770.289.7190
December 24th – 5:30pm
This information is and links provided is believed to be correct and accurate at the time of listing. As always, it is recommended that you call or confirm prior to driving to a location – definitely wouldn't want you mad at us on Christmas Eve!!
If we missed your favorite place of worship, please let us know so it may be added!