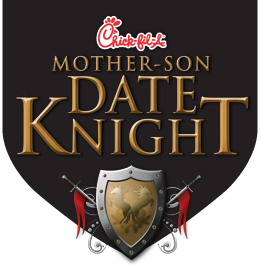 Chick-fil-A Mother & Son Date Knight
Chick-fil-A is throwing another date night – and this time it's for the moms & sons!
When:  Saturday, April 28th
Where:  Participating Chick-fil-A Locations
So, what's a Chick-fil-A Mother & Son Date Knight?  Basically it's just dinner at Chick-fil-A, but more importantly it's a special night set aside for a special relationship.  And I love that Chick-fil-A encourages this!
Each location will will have a limited number of reservations.  Reservations open Saturday, April 14th and you must make your reservation online.  There is no admission for the event.  The only fee involved is whatever you & your son(s) chooose to order from the menu.
You can dress up or stay casual, make a night of it & go to a movie as well or just enjoy dinner together.
Just have fun & celebrate your special son!
Both the Lanier Crossing & Avenue Forsyth Restaurants are participating.
Click here for Lanier Crossing and Click for Avenue Forsyth Reservations.