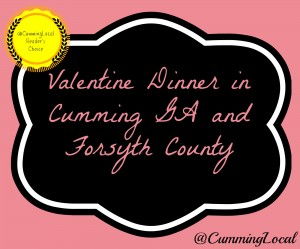 Best Place for Valentine's Dinner in Cumming GA & Forsyth County
Wondering where to eat with your significant other for Valentine's day? My husband and I just had this discussion last week. What better way to decide then to ask our readers to help us put together a list of the best place for Valentine's dinner in Cumming GA & Forsyth County. Click here to see the  question on Facebook.
And here is the list in no particular order:
Tam's Backstage
Branch Water
Bella
Sugo
Home Sweet Home – several said home to not be around the crowds!
Casa Nouva Italian
Mia's
The Foster House
Norman's Landing
Quantro Basta
Waffle House (No joke! I actually just saw a flyer the other day that some of their locations are taking reservations)
Where will you be dining this year?