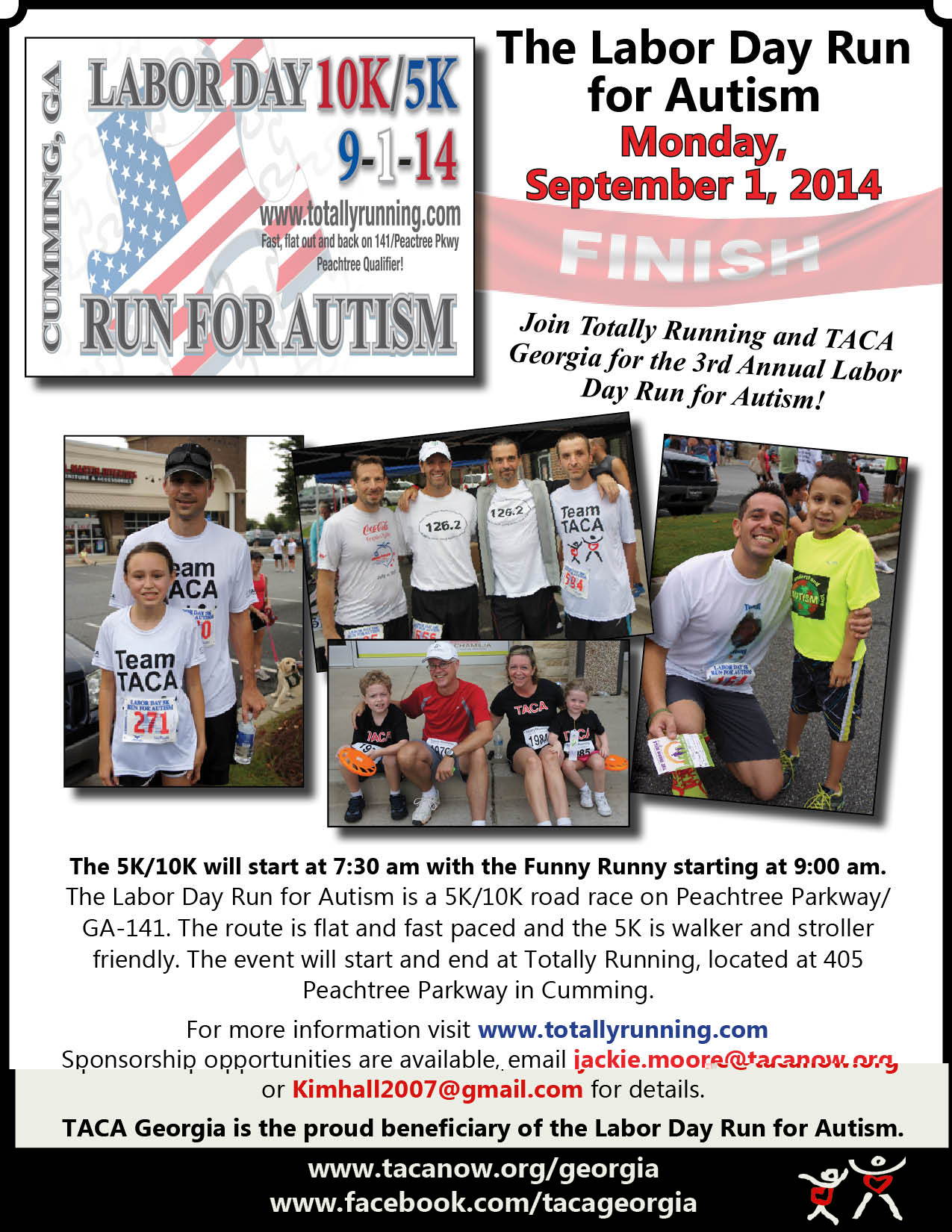 2014 Labor Day Race for Autism
​​​​Totally Running hosts the 3rd annual Labor Day 10k/5k Race for Autism!  This year's race will be held on September 1, 2014, starting at 7:30am.
The Labor Day Run route is flat and fast paced, chip timed and a Peachtree Road Race qualifier.  The 5K is walker and stroller friendly.
For more information:
To register:
Visit www.totallyrunning.com .
All funds raised will benefit the Georgia Chapter of Talk About Curing Autism.
Totally Running is a specialty store that strives to find the ideal running shoe for each customer.  The store has made a goal to create events that bring the community together by funding local charities and raising awareness about the mission of these respective organizations.
What is Autism
Autism is a devastating neurological and biological disorder that typically is diagnosed in children between the ages of 18 months to five years. Autism currently affects 1 in every 91 children and 1 in 58 boys.  It is estimated almost 2 million people in the United States are diagnosed with autism. Autism affects each individual differently and at different levels of severity.
About Talk About Curing Autism
Talk About Curing Autism (TACA) provides support, education and information, and resources to close to 25,000 families across the United States who are touched by autism. One in every 91 children in the United States has autism. TACA aims to speed up the cycle time from the autism diagnosis to effective treatments. TACA helps to strengthen the autism community by connecting families and the professionals who can help them, allowing them to share stories and information to help people with autism be the best they can be.  Ninety-five percent of TACA's programs and services are provided at no charge and include education and support meetings, parent mentoring, and the Autism Journey Guide. Additional information is available at www.tacanow.org