FOR IMMEDIATE RELEASE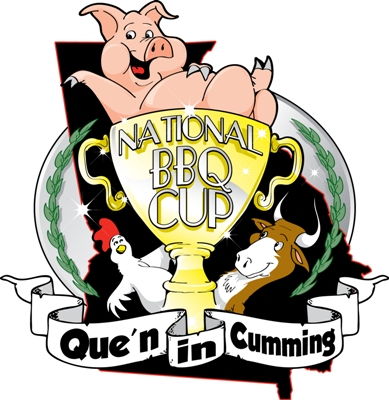 The National BBQ Cup Announces a State Championship Barbeque Cook-off Benefitting Local Cumming and Forsyth County Charities
Cumming, GA, September 14, 2011 – The National BBQ Cup, Inc. officially announces its State Championship Barbeque Cook-off set for November 18-19, 2011, at the City of Cumming Fairgrounds. Proceeds from the event will benefit local Cumming and Forsyth County charities including Bald Ridge Lodge, Jesse's House and Forsyth County Community Connection.
This competition is sanctioned by the Kansas City Barbeque Society and will have 85 professional BBQ teams along with 50 amateur cooks. Teams will come from as far as California and Puerto Rico for the competition, and the local community is invited to attend and join in the festivities.
"The City of Cumming Fairgrounds is a world-class facility for a barbeque cook-off. We are excited to bring this event to our community and showcase it to the Barbeque Circuit," said Randall Bowman, Chairman of The National BBQ Cup. "We anticipate a very successful event and look forward to supporting our local charities as a result."
This family-friendly event is open to the public with gates opening Friday, November 18 from 5:00 p.m. to 10:00 p.m. and Saturday, November 19 from 10:00 a.m. to 5:00 p.m. Admission is free for children under 12. There will also be a Peoples' Choice contest for guests to taste and judge their favorite barbeque. In addition to the professional and amateur cook-offs, and Peoples' Choice contest, there will be a variety of food and craft vendors, raffles, product demonstrations, live entertainment, and a fun Kids' Zone.
For additional information about The National BBQ Cup, contact Randall Bowman or visit www.nationalbbqcup.com.
– ### –