Update:  This giveaway is now closed.  Thank you all for entering.  Congratulations to "Tricia – entry at 2012/12/11 at 9:32 pm" for winning the iPod Shuffle.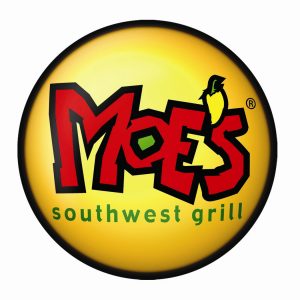 Moe's Southwest Grill – Catering & Giveaway
If you've been following for a while, you may remember that earlier this year I was asked to be a part of the Moe's Blogger Advisory Panel.  Along with that has come some really fun opportunities – both for me & for you!  One of the highlights was attending an event which allowed me to meet all the Executives – hear their hearts and thoughts about the Moe's difference and even get behind the counter & learn to wrap one of those big 'ole Moe's burrito!  We've also been able to offer several different giveaways and share some fun news with each of you – like the Moe's Check-In Club, Birthday Club, Kid's Club and more.
With the Christmas Season now officially upon us (no denying that fact now!!), there are two things for sure!  ONE – it's the busiest time of the year and TWO – your family wants to eat!  Ok, fine … those are true every month of the year but during the Christmas Season I'm all about delegating as much as possible!
That's why I wanted to remind you that Moe's caters!  My husband and I started a tradition our first year of marriage.  Every Christmas Eve we eat Mexican food.  With all the hustle and bustle, for whatever reason we never have anything planned on the evening of Christmas Eve.  We were tired of all the "traditional" food (and knowing we'd be eating that again the following day), so we went out for Mexican.  And that tradition has stuck.
Moe's Catered for Me: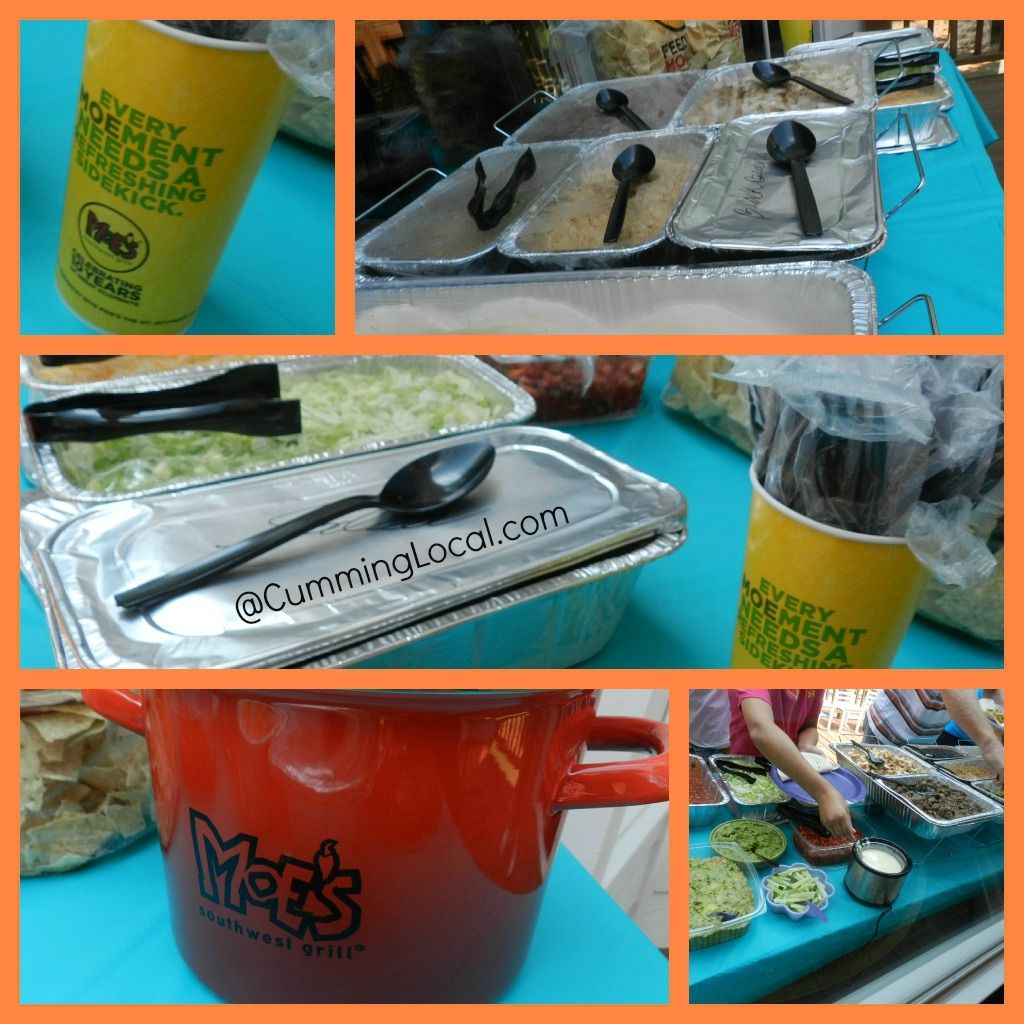 More than likely, you & your guests get tired of all traditional food too.  That's why Moe's is awesome to consider for ANY time of the year – even the Christmas season!
They recently catered my daughter's birthday party.  And I must say, after deciding on chicken, beef or steak … it was the easiest decision I could have ever made!  Everything about it was so easy.  I made my decisions, placed the order, and then everything else was taken care of.
All I needed to provide was a long table to place everything on.  Everything else?  Taken care of.  Plates, Napkins, Cups, all the toppings, HOT food, and chips & salsa with every order!
We decided on the Fajita Bar which is perfect for a "mixed-crowed" in my opinion because everyone can make it how they want.  My husband made fajitas, my grandmother made Nachos, my daughter just ate the chicken by itself and I made a salad out of mine – tons of options & tons of variety!
Moe's Can Cater for You Too: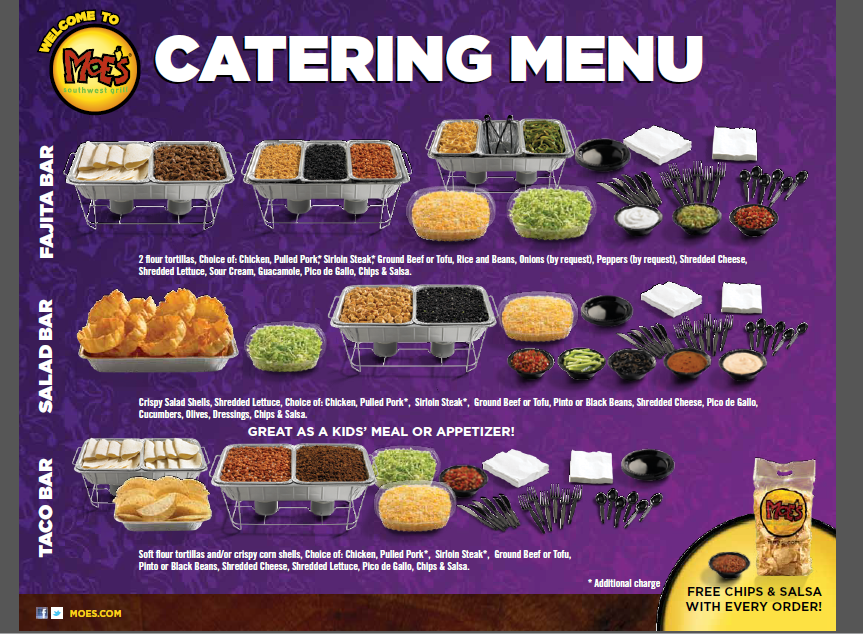 Choose from:
Taco Bar – Soft flour tortillas and/or crispy corn shells, Choice of: Chicken, Pulled Pork*, Sirloin Steak*, Ground Beef or Tofu, Pinto or Black Beans, Shredded Cheese, Shredded Lettuce, Pico de Gallo, Chips & Salsa.
Fajita Bar – 2 flour tortillas, Choice of: Chicken, Pulled Pork*, Sirloin Steak*, Ground Beef or Tofu, Rice and Beans, Onions (by request), Peppers (by request), Shredded Cheese, Shredded Lettuce, Sour Cream, Guacamole, Pico de Gallo, Chips & Salsa.
Salad Bar – Crispy Salad Shells, Shredded Lettuce, Choice of: Chicken, Pulled Pork*, Sirloin Steak*, Ground Beef or Tofu, Pinto or Black Beans, Shredded Cheese, Pico de Gallo, Cucumbers, Olives, Dressings, Chips & Salsa.
Moe's Catering Information:
Catering Menu
Click here for your Closest Location
Giveaway:
Moe's Catering really is for everyone!  So … what parties are you hosting this year?  And how can you make your life a little easier (along with making a Christmas party even tastier)?  Trust me – if you told your guests you were serving Moe's … it would be music to their ears!  And yours too!
And we've got a little something else that will bring MUSIC to your ears.
Enter to win – ONE Apple iPod Shuffle – 2GB (green) (woohoo!!!)

Just leave a comment below saying "Moe's Caters", "Welcome to Moe's", "I love Moe's" … or some fun variation of that!  Simple & easy!  I'll randomly select 1 entry using Random.Org to win.
For an Additional Entry: (must leave a separate comment below for entry)
Subscribe to the Cumming Local Daily Email.  If you already subscribe, simply leave a comment below saying so.
Giveaway will close on Monday, December 17th at Midnight.
Disclosure Statement
As a member of the Moe's Blogger Advisory Panel, I have the opportunity to share information & giveaways with readers.  I was compensated for expenses pertaining to Panel trip and a goodie bag full of assorted items, including the complimentary catering of one party.  However, as always, my opinions are always mine and I have not been required to share any information or thoughts above.  I really do LOVE me some Moe's!!  
Giveaway Disclosure (The Quick Version):   Giveaway will close on Monday, December 17th, 2012 at Midnight EST. One winner will be selected from all entries and selected via random draw through Random.org. Winner(s) will be notified via email & have 48 hours from time of notification to submit their mailing address.
Disclosure (The Longer Read): While this giveaway is being promoted on Facebook, it is in no way associated with, sponsored, endorsed or administered by Facebook. By entering this giveaway, you acknowledge this and release Facebook from any responsibility of such. Furthermore, you acknowledge that any information provided for entry is being provided to Cumming Local and not to Facebook. No Purchase necessary. Giveaway open to all residents, 18 years of age or older, in the US.  This giveaway opens at time of publish and closes Monday, December 17th, 2012 at Midnight, EST.  Entry is only accepted via the forms listed above (completion of tasks & entry of comment on this post). Prize is valued at less than $500. The number of eligible entries received determines the odds of winning. Winner(s) will be selected via Random.Org and notified via email. Winner will have 48 hours to claim their prize & provide a mailing address for shipment. If unclaimed, a new winner will be selected in the same manner. By submission of an entry, reader acknowledges that they are 18 years of age or older and also grants Cumming Local the right to use their name in a winner's announcement, if applicable. By submission of entry, reader agrees to hold Cumming Local harmless in the event that the prize in some way negatively impacts the winner. Giveaway hosted by Cumming Local, LLC PO Box 972, Cumming GA 30028. Void where prohibited by law.