*Update:  This giveaway is now closed.  Thank you for entering.  Congrats to "bczgrl" … check your email for confirmation!

Last week I tweeted and proclaimed on Facebook that I had to take Moe's (Bethelview Location) off the Kids Eat Free Listing.  Boo!  I was really sad about that because I LOVE Moe's and because I LOVE free meals for kids!
But I do have some news that might redeem them!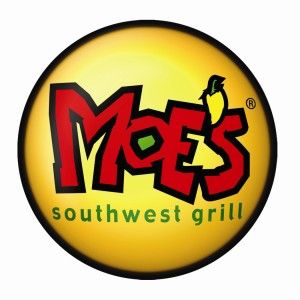 If you haven't been there in a while, you'll probably be happy with some of the changes they've made.  On January 18th, Moe's rolled out a new Menu to align with their new "Food Mission".  Here are just a few things that I'm really excited about:
Shredded cheese and sour cream that are free of gelatin and animal rennet (um, yuck!!)
Grilled onions, peppers and mushrooms are all prepared on a separate grill from any meat products (incredibly important if you're a Vegetarian!).
Over 20 glutten-free ingredients, like their popular Rice Bowls with Tofu, Chicken and Pork.
Chicken is all natural, cage & hormone-free.
Steak is 100% Sirloin, grass fed & no hormone added.
Pork is hormone free, steroid free, and grain fed.
Tofu is organic.
Pico De Gallo is handmade fresh daily.
Sour Cream is all natural, rBGH free.
All Moe's are free of Microwaves, Animal Fat, Lard (YUCK!), and MSG.
I'm excited about those changes!  They're definitely changes in the right direction!
Overall, Moe's is really trying to make it easier (and tastier) to eat healthy!  Part of the new "Food Mission" is to make it easier to find low-calorie, gluten-free and vegetarian options on their Menu.  These are made with over 20 organic, freshly prepared ingredients!
So, have you tried the new menu recently?
Do you want a FREE chance to "Feed the MOEment"??
You know we LOVE giveaways at Cumming Local, so we have one for you!
But before you enter, be sure to visit Moe's online for a coupon that actually will let your kids eat free – even on Bethelview!
The Giveaway:
A $25 Moe's Gift Card
To Enter:
Simply leave a comment below – maybe tell us your favorite Moe's Menu item, or maybe what change you're most excited about!
For Additional Entries (leave a separate comment for each entry):
Like Cumming Local on Facebook & then come back here to leave a comment saying you like us (if you already like us that counts too, just be sure to leave a comment below).
Share this giveaway on Facebook or Twitter by saying "I just entered to win a $25 Moe's Gift Card from @CummingLocal and you can too – https://www.cumminglocal.com/2011/03/17/moes-giveaway/".  (and of course be sure to leave a comment here saying you shared it)
This giveaway will close on Wednesday, March 23rd at midnight.  A winner will be selected via Random.org and notified via email.

Disclosure:  I was provided with a gift card to try the new Moe's Menu but all comments and opinions are mine.